It's been an exciting year of content creation for us and we would like to share some of the work we've done.
The Amigos had the good fortune to mingle with the Boks in the build-up to their World Cup campaign. Boksquad is an MTN digital platform offering exclusive Springbok-related content, and has seen tremendous growth leading up to, and during the Rugby World Cup. We were approached by Wishlist Media to produce, shoot, and edit the first season of Boksquad which includes 6 talk show episodes and more than 20 intimate spotlight interviews with the players;
past and present. The talk show: "The Late Late Tackle" is hosted by popular comedian Dalin Oliver, and along with the spotlight interviews is performing exceptionally well on the Boksquad
platform.
​
Roles: Producer, DoP, Editor, Production Design, Set Build
The highly anticipated release of Bethesda Game Studio's STARFIELD was made ever more thrilling by the TVC directed by Nicole Ackermann and produced by Romance Films (Cape Town).
Our role on this commercial was to capture the b-roll and interviews with key personnel, which was later combined with footage from the main TVC to produce this utterly charming making-of film.

Roles: BTS videographer
Chicken Licken: Digital and OOH
The highly anticipated Chicken Licken TVCs put out every year attracting a great deal of attention, and we are super proud to have played our role in several campaigns. Respect and gratitude must go to director Greg Gray and his team at Romance Films, and Joe Public for continuing to entrust us with their Digital and OOH briefs. From billboards to GIFS, interviews to social assets, we've
covered every base possible outside of the main unit. TVCs are team efforts and we are team players! And for everything else….there's Razzmatazz 😎
​
Roles: Stills Photography, DoP, Social Content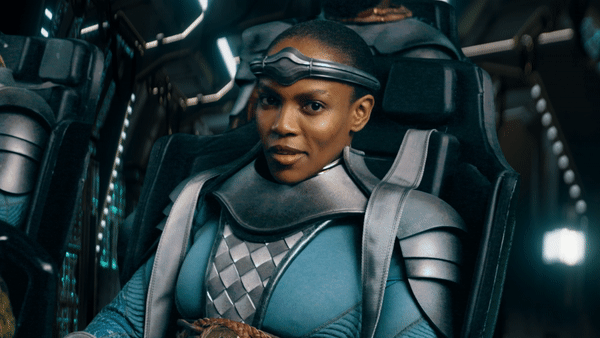 Homage Projects

: Ratched & Blade Runner 2049
Dos Amigos enjoyed a recent collaboration with Joe Alblas and African Photo Productions on their Working with Light series, producing two pieces of moving content. These highly aesthetic shorts owe a great deal of credit to the team of costume designers and makeup artists who were nothing short of stellar in the craft. This ongoing collaboration has resulted in two very different shorts and a series of specials/gallery stills which we are proud to present as a testament to the team's ability to deliver on the EPK requirements of long-form film content.
​
Roles: DoP, Editor
​
​
Under the Microscope Season 3
The creative powerhouse at the purpose-led Iron Heart studios does not get enough praise for the work they do. So we will do so here: Under The Microscope is a fantastic YouTube series that harnesses the power of humour and plain speak to make 'heavy topics" accessible and relatable to me, you, and everyone who skipped getting their doctorates in political science, psychology or social sciences. Dr Riyaad Moosa, steps up to the plate to help examine these issues, helping viewers laugh, giggle, and snort their way to coming to grips with the challenges we face as a society. Dos Amigos were called on to co-produce, shoot, and edit the latest season of UTM. We continue to smile at the fun times we had creating this content.
​
Roles: Producer, DoP, Editor, Set build
Zeitz MOCAA presents: When We See Us
For several years now we have been the go-to team for all video content for the curatorial team at Zeitz MOCAA, and in that time we have documented projects that were truly beyond exceptional. This exhibition has taken "beyond exceptional" a whole lot further. We conducted more than 25 interviews with art lenders, artists, collaborators, and museum representatives from which a wide variety of content was produced. The short documentary shown here captures some of the effort and dedication invested in this project, but nothing compares to experiencing the exhibition firsthand. Highly recommended.
​
Roles: Videography, Editor
It is always a pleasure and a privilege to work with brands who take as much care in crafting their visual content as they do with their products. This TVC was no exception and capturing this EPKesque
content, we felt, helped surface the commitment and creative insights that drove the project.

Roles: BTS Videography, Editor

Charcoal Films came knocking with a sweet brief from Filmr. Needless to say, we put our heart
into shooting this spot with director Sarel Esterhuizen. We had to overcome the challenge of
shooting in three locations in one day, but rise we did the client loved the final result.

Roles: DoP